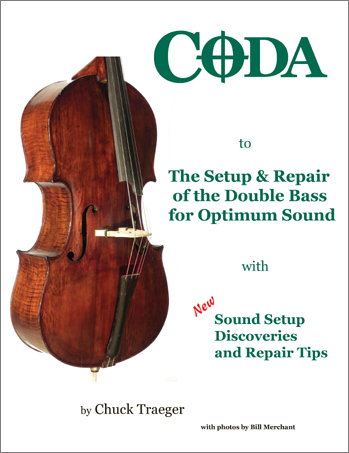 Chuck Traeger , Bassbauer und Autor des Buches The Setup and Repair of the Double Bass hat seinem Werk einen zweiten Band folgen lassen: Coda. Mit 64 Seiten ist dieses Buch längst nicht so dick wie der erste Band, ist aber dennoch prallvoll mit Erfahrungen aus Chuck Traegers Werkstatt. Viele Kapitel beziehen sich auf den ersten Band und ergänzen neue Ideen und Erkenntisse. An manchen Stellen korrigiert sich Traeger auch, und präzisiert den einen oder anderen Aspekt. Obgleich als Fortsetzung verfasst, ist der erste Band aber keine Voraussetzung zum Verständnis. Man kann auch einfach so in diesem Buch schmökern, um neue Anregungen für Kontrabass-Basteleien zu bekommen.
Aus dem Inhalt:
The endpin – mightier than  the sound post
How to make  the bass louder and responsive
Simplifying mode matching
making a bass brighter or darker
more about sound posts
u.v.m.
Das Buch ist für 27,– € unter www.JonasLohse.de erhältlich.