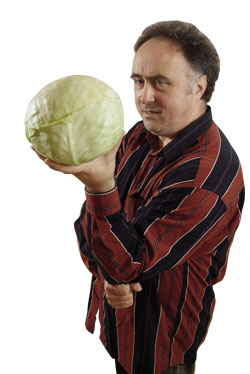 Vitold Rek stellt in der aktuellen Ausgabe des Journal Frankfurt ein Gericht aus seiner galizischen Heimat (das polnische Galizien, nicht das in Spanien) vor: Kohlrouladen mit Hackfleischfüllung. (Ausgabe 12-07, ab Samstag, 26.5. am Kiosk.)
Wer nicht im Verbreitungsbiet des Journal Frankfurt lebt, und das Rezept trotzdem nachkochen möchte, findet es online unter www.journalportal.de

Vor einigen Wochen ist auch Vitolds neue erschienen, aufgenommen im März 2006 mit seiner Gruppe East West Wind: Home. Die aktuelle Besetzung von East West Wind besteht aus Vitold (double bass, mandolin, mandola, vocal), Jarosław Bester (accordion) und Ramesh Shotham (percussion: tavil, mridangam, kanjira, morsing, zarbang, konakol, cymbals, ghatam, vocal). "Together, these three musicians both rediscover previous relationships and reveal unexplored synergies among a wide scope of ethnically diverse music." schreibt Elliot Simon in All About Jazz.